India is land of culture and tradition. There is no doubt that there are different religions that are been followed in different states of india.Marriage is a social as well as religious event in india . The common aspects  in all the marriages is prayer and vows that are taken together by the bride and groom to be together in thick and thin. Well marriages are union of two marriages not just 2 individuals. Our country is known for much fr unity in diversity and same variety is applied in wedding culture.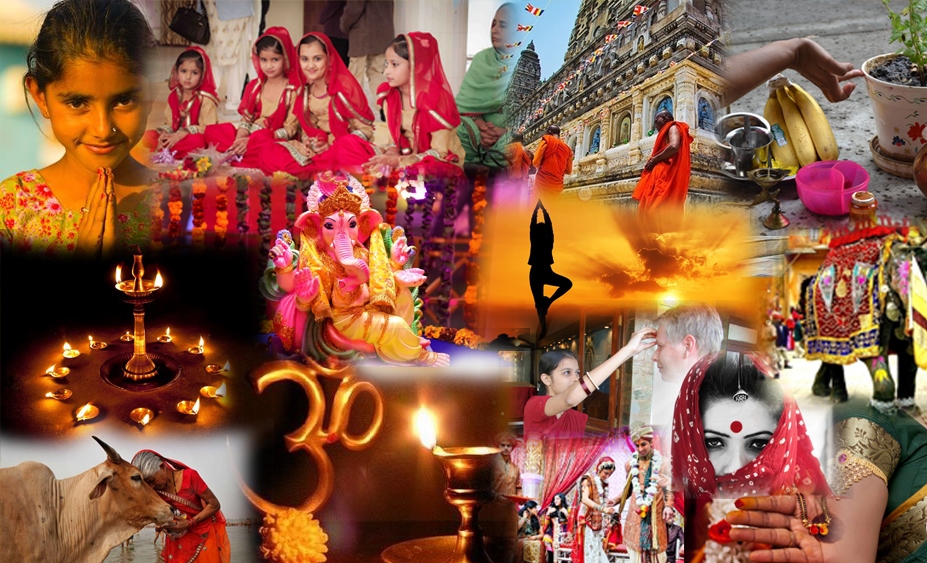 Indian follow a series of rituals in every wedding and these rituals are followed not just during the wedding but before and after the wedding. These rites and rituals are not same in every culture. Different religions have different rituals. But the intention behind these rites and rituals are same for every religion and that is the well being of couple.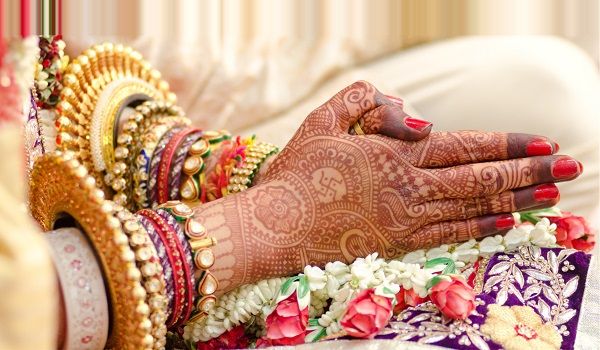 While discussing about the wedding tradition, in india there are 2 main tradition that is common in every culture wedding that are sagai or engagement and the vows commonly said as saat phere. The name might be different in every religion. There are numerous  other customs that tend to vary by name but intentions are same.
Hindu Wedding customs
Hindu wedding also differes as we go from one region to anoter. But the main rasms that are common n all are  prayer (Ganesh puja), Haldi rasm, Sagan (exchange of gifts to confirm engagement), Sangeet and Sagai and these are pre wedding rituals. Marriages are arranged in halls or open lawns or in brides house.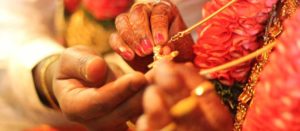 The main wedding rituals are jaimala ,kanyadann,sindoor, mangalphere ,Satapadi and the last but not the least Vidai. These all rituals are practiced in the presence of the priest who conduct all these rituals while speaking the shlokas. The groom arrives with full band Baja with his family and friends called as "baraties" dancing all the way to the marriage destination. The groom usually is sitting on the horse or in some wedding in a car as well!!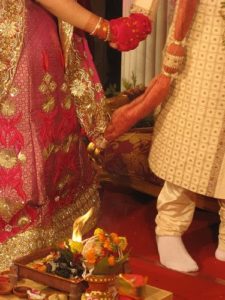 The main important ritual in hindu wedding in the satapadi which is the seven  steps around the holy fire and after that the couple is declared as married.
Punjabis and sikh wedding customs
Punjabis and Sikh wedding are the most sought after wedding after they are the most warm hearted and fun loving among all. There bhangra style is quite famous after all and just not them every person loves doing bhangra steps on Dj irrespective of the cast or religion or occasion. Most of the people think that Punjabis and sikh people are the same as they follow similar customs. To generalize both are impulsive loves food specially dal makni and butter chicken, are fun loving, loves doing bhangra and are warm hearted . So to a great extend their likes are very much common. But there is subtle difference between both of them. Their tradition are similar yet not same.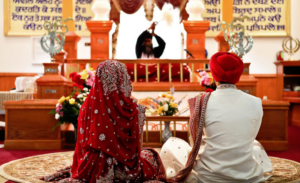 Punjabis wedding is a long strecth affair into the night with the pheras and mantras happing after dinner at night . Whereas in sikh there wedding takes place in morning in the gurudwara. The bride and groom sit's infornt of the guru grant sahib. The "Ardas" what sikh call prayers in their native language are read out and then there sikh guru's are saluted. In Punjabis the red white bangal's signifies the beginning of the wedding. The groom and bride are bathed in holy water at the gurudawara . All this takes place in morning and at night garland exchange and final wedding rituals takes place.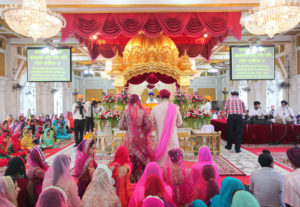 Gujarati Wedding customs
Gujarati are also versatile in itself. There are also fun loving to. They are very calculative with money but when it comes to wedding they are no less than punjabi's. they spend lavishly in a wedding. They to have a loud evergy for weddings.

Gujarati wedding are very versatile full with customs and rituals. But the rituals among the gujratis subcaste differs. Though some customs are common which I will discuss here . First is that they take 4 pheras than unusual seven pheras. The 4 pheras signify 'Dharma', 'Artha', 'Kama', and 'Moksha'. They consider these 4 factors as the pillar of a successful marriage. Second us that the jaimala is exchanged twice rather than then just once.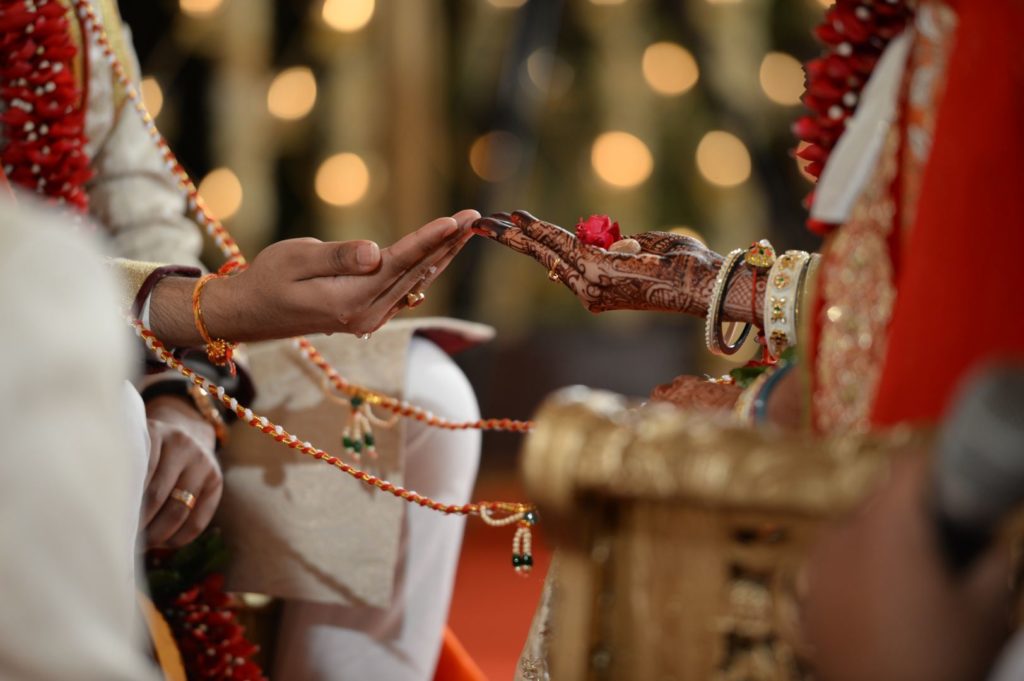 Jain wedding customs
Wedding is considered very pious in jain. They don't belief in pomp and show rather their wedding is full of rituals and customs. They marriages are less extravagant. The most important rituals in jain wedding is Phere, Kanyavaran, Havan and Granthi Bandhan.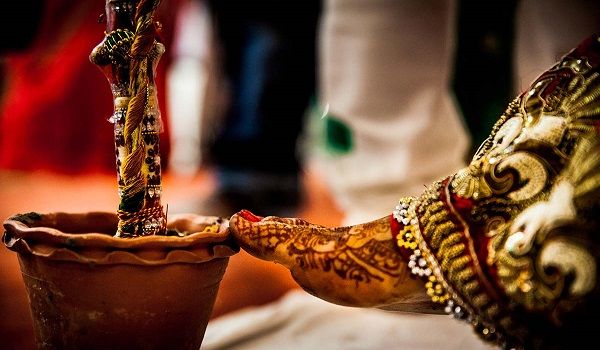 Pre wedding ceremony include lagana lekhan in which wedding date and time is agreed upon. On the wedding day the rituals are same as that of any hindu wedding that are the bride and groom sit in the mandap and rituals like kanyadaan (or kanyavaran), Granthi Bandhan (tying of knot of sari with groom's shawl), mangal pheras, seven vows taken by couple, exchange of garlands, havan, Shantipath and Visarjan. After the wedding, the couple is blessed by everyone (Ashirwaad ceremony). The bride is welcomed in the groom's house (Sva Graha Aagamana).The different thing after these ceremony is the Jina Grahe Dhan Arpanain which alms are distributed in jain mandir. And then reception follows.
A great wedding is not when the 'perfect couple' comes together. It is when an imperfect couple learns to enjoy their differences. Well, for a successful marriage, you have to fall in love with the same person many times. And you also have a special person in your life whom you can annoy the rest of your life!!