1. Combination of Gold & White for Wedding stage decoration
This style of decoration is soothing to eyes and creates a kind of delicacy in the venues that everyone would feel which could not be created with any other combination. Decorate the bride and groom seating bench in gold and decorate the background with white flowers and golden satin drapes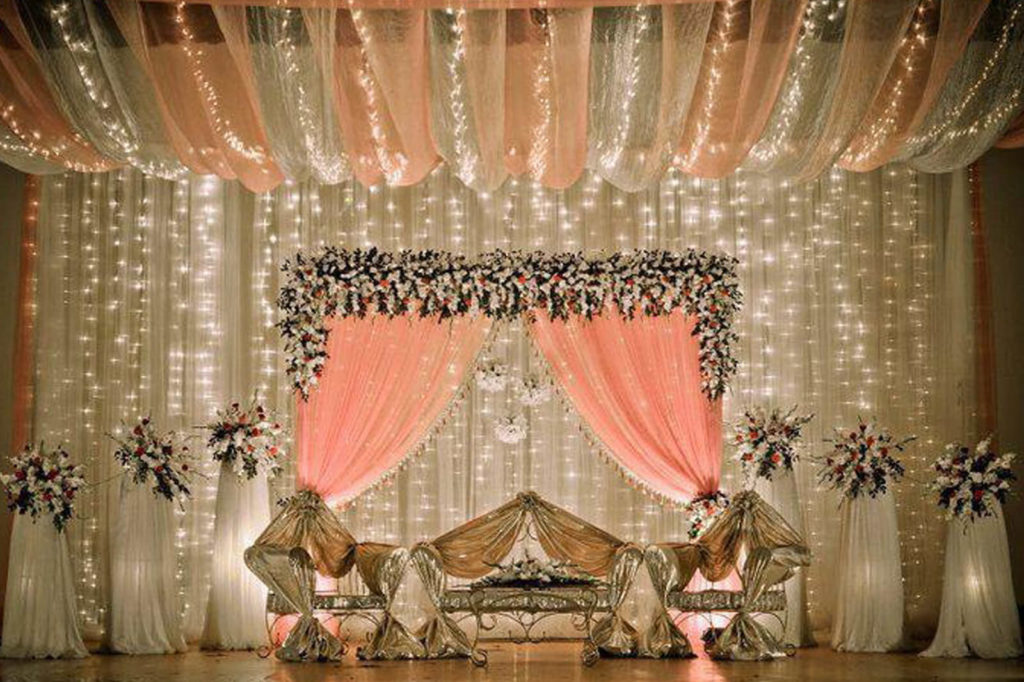 2. A Flower Decoration
Flower are the most important part in any wedding. Most Indians wedding decor Is incomplete without floral decoration. I have already wrote 2 blogs on Indian summer flowers and the areas where floral decoration can be used. Several types of flowers like roses, tulips, marigold or wildflowers are used in a wedding stage decor. It creates a cosy atmosphere and brings a romantic atmosphere inside the venue.
3. Lights & Flowers
The most used decoration ideas include lights and flowers for the stage decoration.In every wedding there dominate in decoration part. Any decoration is incomplete without the use of two. Mix the 2 by making good combination color to create some special effect. This is best for creating a mesmerising effects for your wedding. In addition to it draper and curtains will do the rest job.

4. Royal Themed for Wedding stage decoration
Many brides or groom wants their stage to have a royal look its seen in movies. Raja entering and siting on his thrown followed by her queen. If you want create the same effect in your than you can ask your decorator for royal theme stage decoration. In such theme the gold colour dominate. Gold can be paired with red or regal blue or bottle green as these colours were predominantly used in those eras of raja and rani

5. Satin Drapes Decor for Wedding stage decoration
Drapes are known to create a mythical aura. With the large flowy drapes in the background and a contrasting colour seat on the stage, all these make for a picture perfect moment.
Drapes are an elegant choice and if you make an intelligent one in colours say pastels, then your style of decor will be the talk of the town. So, choose a glamorous look and make a perfect choice in drape colour.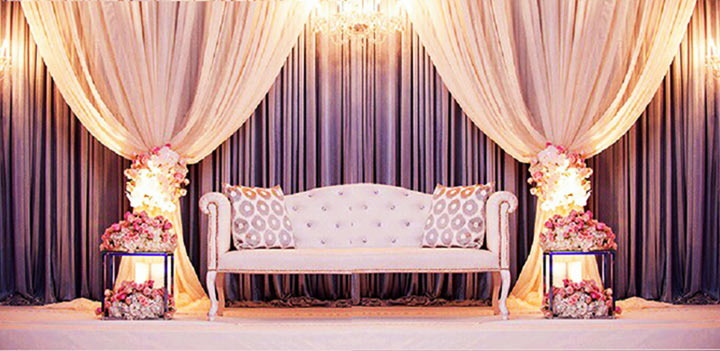 6. Pink Themed Wedding stage decoration
While you are looking for sophisticated colours, pink is a nice one to go with. Pair up your drapes with white flowers and ferns to bring a rustic view within your wedding stage. A combination of pink, white could also be considered. Just have a look at the colour of your seat and then start decorating the style of your background.

7. Drapes & Hangings Duo for Wedding stage decoration
Go with some bright hangings made up of crystal or lights. These will look fabulous in your wedding stage decoration. Hang a stain drape of lighter colour in the background so that the light from crystal hangings can reflect the colour at its best.You may use the crystal hanging by making an archway above your seat or let them hang in the background.
8. Ethnic Style
An ethnic style comes equipped with lots of colours. Red, pink, orange, yellow and green comes in the colour palette that makes for an ethnic theme. What more? Add a swing for the couple in place of the seat and decorate the entire stage area with marigold or hibiscus. These would surely make for an ethnic-themed centre stage. Go for this décor. It will bring out the warmth in the stage while keeping the exotic-ness intact. You may even add some traditional props to synchronise with your decoration.

9. Umbrella Style Wedding stage decoration
You can show your creativity with umbrellas decoration as they are the props of this era.. Umbrellas have taken the foremost position in the list of decoration ideas. Use embroidered colourful umbrellas and hang them in the background or you can even use them on the roof top of the venue entrance for giving a unique touch to your wedding decor. You can choose some vibrant colours like white or baby pink or bright blue colours if its is summer wedding or day time wedding because its shades will create a magical effect.
10. White Color Wedding stage decoration
You can choose your compete wedding to be white color White is classic in every way. And when given to your backdrop it will elevate the sophistication level. The attires of bride and groom would be well displayed with a pristine white background. Use everything white like white roses, ivory satin drapes, and a pearly sheet with few bronze colour props to keep the look a little livelier.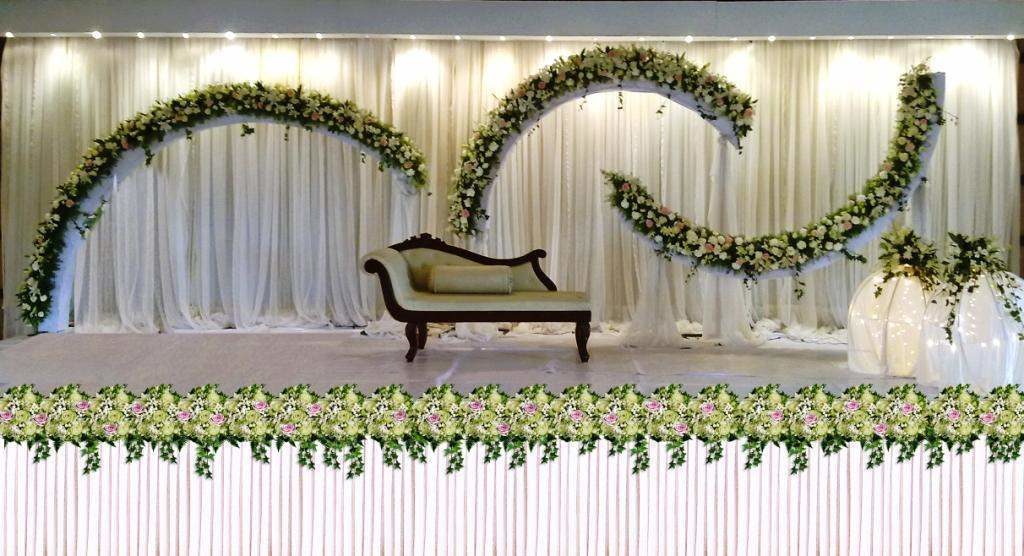 11. Red & Gold
Another of the magnetic combo, Red and Gold makes for a perfect colour scheme. Pick the drapes, flowers and lights and arrange them in a creative manner. Choose this colour combination and give your center stage a stunning look.