Dhamakedar and jhakas wedding entry styles for both bride and groom
Bride has always been the main attraction in every wedding. Though groom has its own importance but the bride value is always more than a groom and it should be. In every marriage it's always the girl who is responsible to carry and maintain the relations. We have also experienced in every indian wedding that the entry of a bride is always look forward. May be her lehnga, or her way of walk and entrance everything is been looked upon.
Gone are the old days when bride used to enter with their head down and eyes full of nervousness while the groom long and tall heading towards the wedding on a horse. Now with time the style of entrance for both groom and bride has changed. First the bride used to weight for groom nervously, but now groom weights for her to be wife. Now the bride enter in auto rickshaw dancing on 'kala-chasma' with the goggles on. Even the groom don't mind waiting for them as they have to make this there habit of waiting for their wifes now and forever.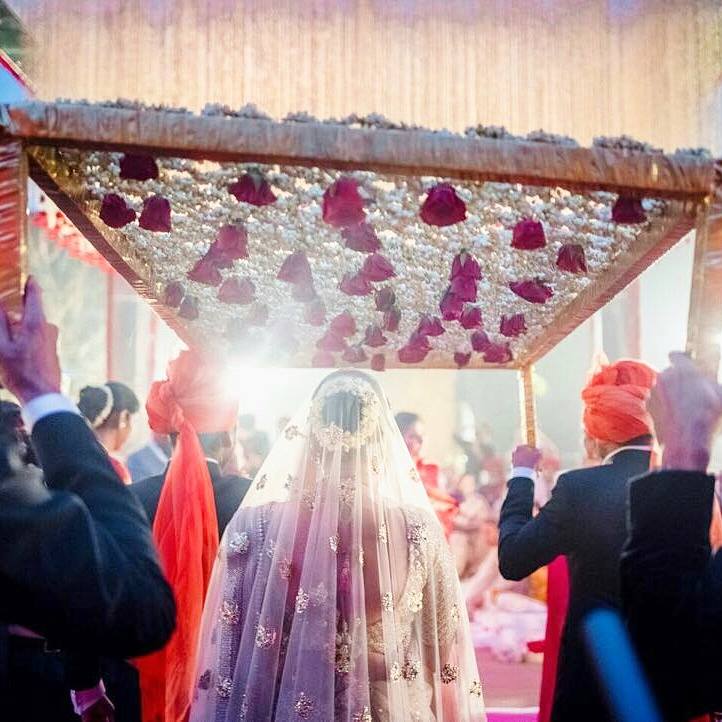 You don't want turn your head down while entering in your wedding. Do the dance on swagat se swagat with your friends on your entry. Dancing to your wedding has been now conventionally new. It might have been started long back but it has became a rising trend now.
So are you thinking to have "dhamakedaar style entry in your wedding?" Then we have brought to you list of wedding style entries that you can consider and can opt any of the style for your wedding or you can suggest someone even.
Auto-rickshaw or rickshaw wedding style entry
Nothing could look like more bollywood wedding entry style than a auto rickshaw or a rickshaw beautifully decorated. Either you can ride rickshaw by your own or you can ask a favor from one of your friend to drive it for you. Or to make it more jhakas ask your to-be-husband to drive and let the bride stand and dance on the back on any of your favourite song while both groom and bride wearing black goggles. Black goggles will also add a swag to your entry. So the best song could either be "swag se swagat" or "ban ja tu meri rani"(the black goggle connection) or "kala- chasma" (the popular one) etc.
Auto rickshaw can be also a decorated with flowers or any other style. This can be done by your wedding planner or decorators. Ask them and give them extra money as it wouldn't cost much. Also now a days with the this trend on rise you can easily get already decorated auto-rickshaws.Contact any wedding planners to provide you with options.
Sparkle it by firework sparklers
Make entry in your wedding or reception with sparkle shower. This can be done separately for both bride and groom entry or for couples entry in a reception. There are special sparkles that are available for wedding purpose only which are easily available in market. Ask your family members and friends to hold the sparkles while the bride or groom makes the entry.
The best thing about this is that it will makes family and friends feel involved and also give them a special feeling like a groom or bride feel themselves.This will add a romance-quotient in your wedding and your guests will also get look something new apart from the regular normal entries that they have been used too.

Just like sparklers one can use color bombs in there wedding entrance. This can be combined with an auto rickshaw entrance or a vehicle style entrance or any other style in one wants.Otherwise simply using it will add colors to your entrance.This style of entry will be very catchy to eyes as the colors in those bombs are vibrant. Just like color bombs both bride and groom will add colors to each other life by agreeing to stay together forever with each other even in the hard times.
To make your entry special and gorgeous one can opt for this type of entry. With vehicle i want to say it could be a bike say a bullet or a vintage car or an ATV or a luxury sports car. If you are old is gold fan than you can opt for a vintage car style entry .But if you are not found of ancient things then you can opt for any luxurious car say "sedan" or a "limousine car". Don't need to worry about the costing as these are easily available on rent.Ask wedding planners or event management companies to get one booked for you.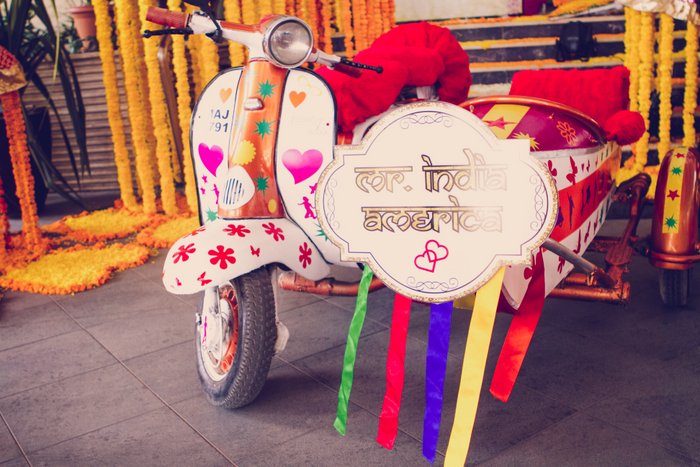 Also a bullet style entry can be fun to. The groom riding the bike and the bride sitting at the back. Or to make it even more jhakaas it could be vice versa also. Imagine you making an entry on a bike with a punjabi song playing at back and all your family and friends grooving on the beats. It all be fun!!!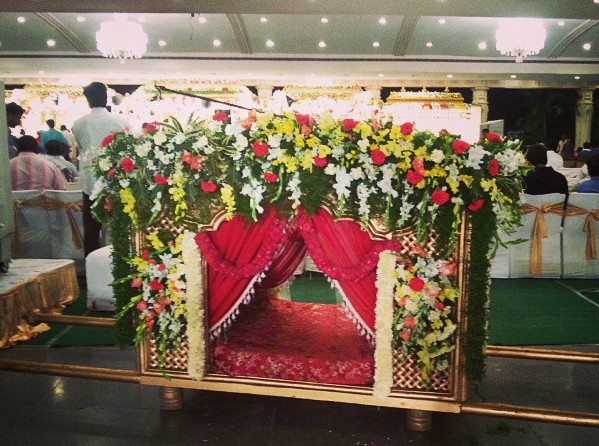 What could be more quirky that a bride arrives in a palki rather than leaving in a palki. In ancient times palki was used to carry the bride to the groom's house. but now as the trend has changed the way the things can be used will also change. Change is the new concept. A bride entry cannot be more elegant than this. If you want a simple yet a different style entry than one can opt for this. You will be carried by four men on their shoulder in a palki and after that you will enter the venue like a rani entering a palace in ancient times. There are different styles of palki available now in market.
Horse carriage or Baggi for Wedding entry

This style of wedding entry style will add raja-rani feeling in bride and groom. Imagine the raja of your life will make its way on carriage carried by horse with a sword in his while the bride beautiful and elegantly dressed will make her way to the venue on a different carriage. Also both couples can also come in the same carriage. And when the bride steps down the groom will give his hands to help her. All this will give a mughal type feeling and a classic touch to your wedding. It will raise the standard of your wedding to the next level.
Wedding entry Amidst Dancers
Its a very high trend in todays market. In this dance groups perform before the entrance of groom and bride on any dance song . There performance will mark a great impact on the guests. It will give you a grand style entry in your wedding. Everyone eyes will beon you even if they ae distracted. There are various themes for this as well. Last year it was bahuballi style entry with ive artist performing on bahubali songs. ou can choose from as many themes options as wehave in bulk options.