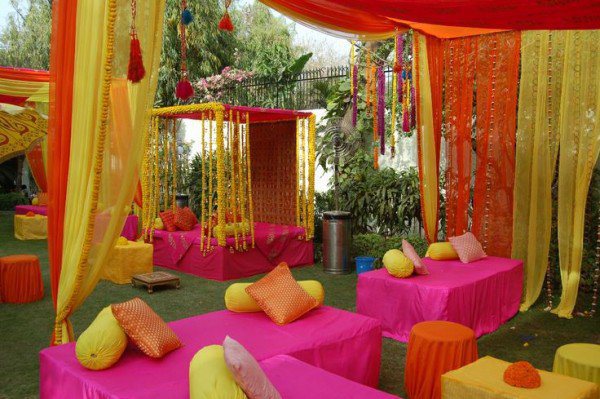 Mehndi Event Management
ChinChin Celebration is an event management company that has its partners in mehndi who are specialized in Traditional Indian Bridal mehndi and have more than 20 years of experience. We are expert in unique and elegant Bridal Mehndi Event Decoration which are based on Traditional Indian mehndi pattern, Arabic Zardosi, and modern latest trendy patterns.
We only use natural mehndi (Henna) powder with natural herbal ingredients to prepare quality Mehndi paste. You just need to keep Mehndi paste for only around 3 hrs on your body and we guarantee the color.
It's small things that matter to make Mehndi extraordinary. Great ideas, great planning of each visual element at the event weaving each invitee into a short glimpse of love. Building excitement for the grand wedding is just one of the things we do and Mehndi is most important part of that.
Mehndi is one of the oldest forms of body art conceive by Indians. The Hindi and Arabic word Mehndi is derived from a Sanskrit word 'mendhika' which referred to the henna plant itself.
Mehndi Ki Raat
Well, Mehndi ki raat is the Indian ritual of a bridal shower. It's a time when radiant Bride gets to spend some time with family and friends, stunning designs are applied by well mehndi artist on the hands and feet of the radiant bride with her close friends amidst amusement and harmony. It is often combined with "music & masti" and hence makes it a night full of melody, dance as well as buffeting. This is an awesome gathering when all the relatives and friends get together for whole-night of amusement as well as pleasure. The ladies night can be completed more fun-filled along with the touch of ritual for the new bride.
We Give Best Mehndi Decoration Ideas like:
Use Traditional flowers for Mehndi Decor.
Traditional flowers are easily available and much cheaper than using western flowers. You can use Gende ke fool for a bright orange effect. Gerberas and Jasmine also look really beautiful Space will look cheerful, colorful traditional and ethnic. Such a gorgeous combination and we give Best Mehndi Decoration Ideas.
Highlight the space with easily available and fun accessories. You can use colorful pots as well as kaleeras. (Punjabi wedding kaliras), traditional Rajasthani puppets, lanterns. and even colorful diyas. We are Event Management Company Gurgaon and Wedding Planner in Gurgaon. These accessories will transform the mehndi venue into a magical place.
We give you Best Mehndi Decoration Ideas. Nowadays, the trend of Photo Booths has taken over wedding ceremonies. Everyone loves these awesome Photo Booths which make any ceremony lively, funny as well as interesting. Clicking pictures with cool and desi hashtags saying photobooths and enjoy the ritual 
Open Hours
Monday – Sunday
10:00 am – 7:00 pm
Weekend Open
Phone & E-mail
Phone: 7042007068
chinchincelebration@gmail.com