Every Bride Wedding Survival Kit
Every bride will come across many weird situations during the entire wedding day in which she might get embarrassed like hair getting messy or makeup getting washed away or the worse your wedding dress gets small blister due to smoke ashes etc. You know there can be an endless situation that one can think of. But the best solution to this is a handy survival kit that I suggest every bride should have.
All women out there always carry small things like lipsticks, sanitizers etc in there bags in daily routine because they may fall in some situations where they may not find things that they require the most at a point of time.
And when I think about weddings, what will happen to the bride during her entire wedding without the basic things near her which she requires every now and then. We all know wedding Is a long stretch event in India. So a bride may come across many unexpected situations where she may get stuck in weird situation feeling helpless thinking about what to do or what not.
So prevention Is better than cure. To be on the safer side every bride should carry a wedding survival kit.
The Wedding Day Emergency Kit must have these following things. Apart from these, one can add as many things they want as per their requirement.
1. Sewing Kit in a Wedding survival kit
Your sewing kit could turn out to be your strongest savior in the fight against the elements on your wedding day. Make sure this includes sewing needles, safety pins, a small pair of scissors, hem tape, and thread in colors that match your wedding dress as well as the bridesmaid dresses and groom/groomsmen apparel. The kit will come in handy in case of tears, or find any loose threads.  Safety pins come in handy for keeping everything in place as it should be.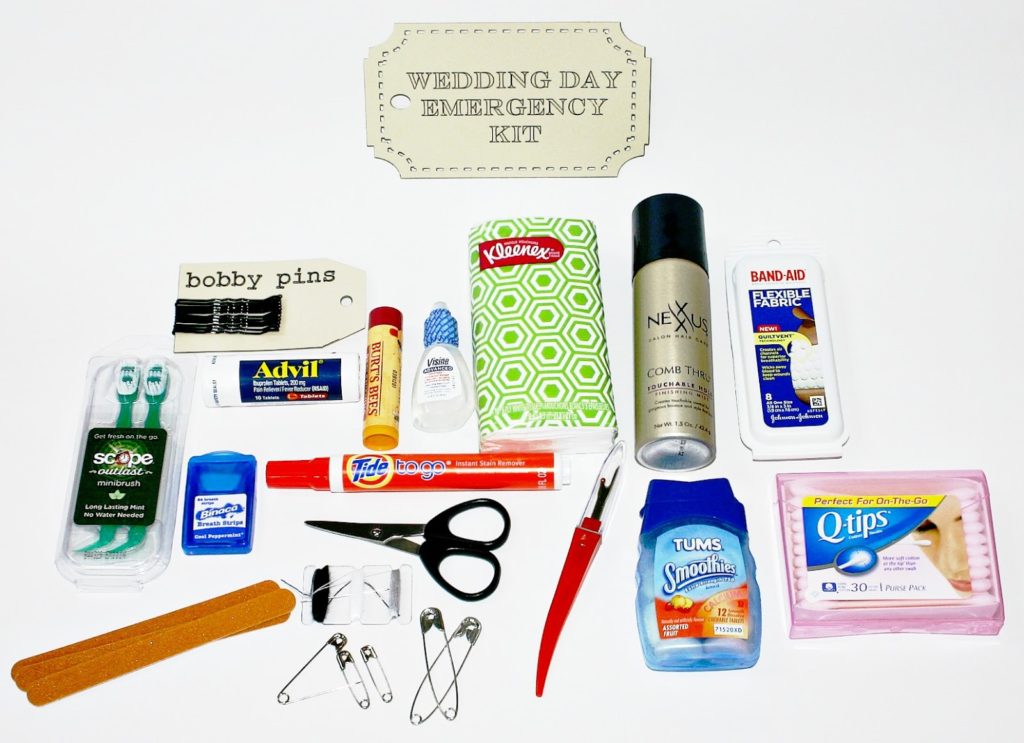 2. Clear Nail Polish
An old trick for stopping runs in nylons and tights requires the use of clear nail polish. Try to get a quick coat on immediately after you find the tear—this will prevent the tights from running further.
3. Super Glue
The super glue might come in handy for fixing broken shoes, jewelry, or other miscellaneous defective accessories.
4. Bottle of Water/ Other Snacks in a Wedding survival kit
Sometimes with all of the wedding day excitement and jitters, brides have been known to forget about and/or skimp on meals before vow time. Or maybe due to nervousness your urge to eat just vanishes away. While waiting for the precious moment when taking seven vows in front of Agni,  the bride may not feel like eating due mix feelings of joy and nervousness.
Probably don't want to get too filled up on snacks before your ceremony dinner, it's a good idea to have water and some food item handy so that you don't have to worry about fainting or feeling sick before and during the ceremony. Keeping yourself Hydrated is necessary. But a small snack such as a protein bar will help keep your blood sugar level and energy so that you won't feel ill or exhausted.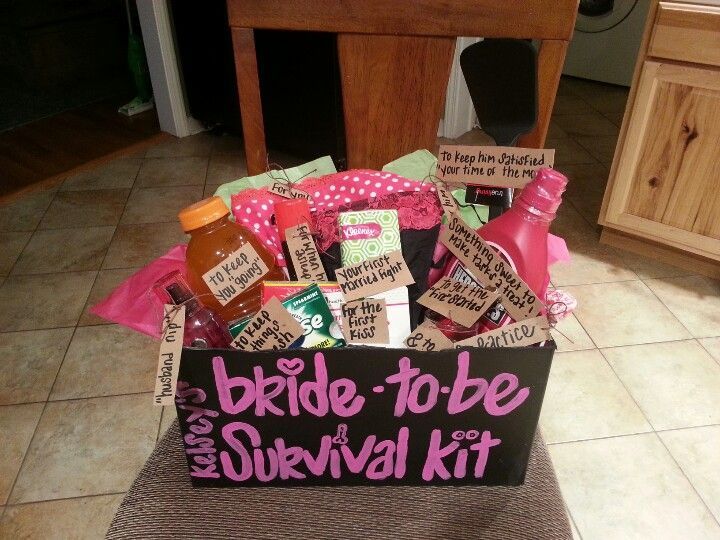 5. Bobby Pins /Comb/Hairspray
You know your girls have your back when they stop at nothing to make sure you have perfect wedding hair. With pre-ceremony rituals like photos which are often outdoors, headpieces, hugging friends and family, or hair getting stuck to the face via sweat or tears, you're definitely going to want something to keep every hair flawlessly in place.
6. Lipstick/Other Makeup in the wedding survival kit
As mentioned before many unexpected situations may come during your wedding.  You're going to be glad you have some makeup in your survival kit for touchups. Lipstick, mascara, eyeliner, the foundation they have the ability to smudge or run. And you'll want to be photo-ready every time when the opportunities arise and you know they will. It's also not a bad idea to have a drinking straw handy to avoid smudging or wearing off lipstick when you're trying to hydrate.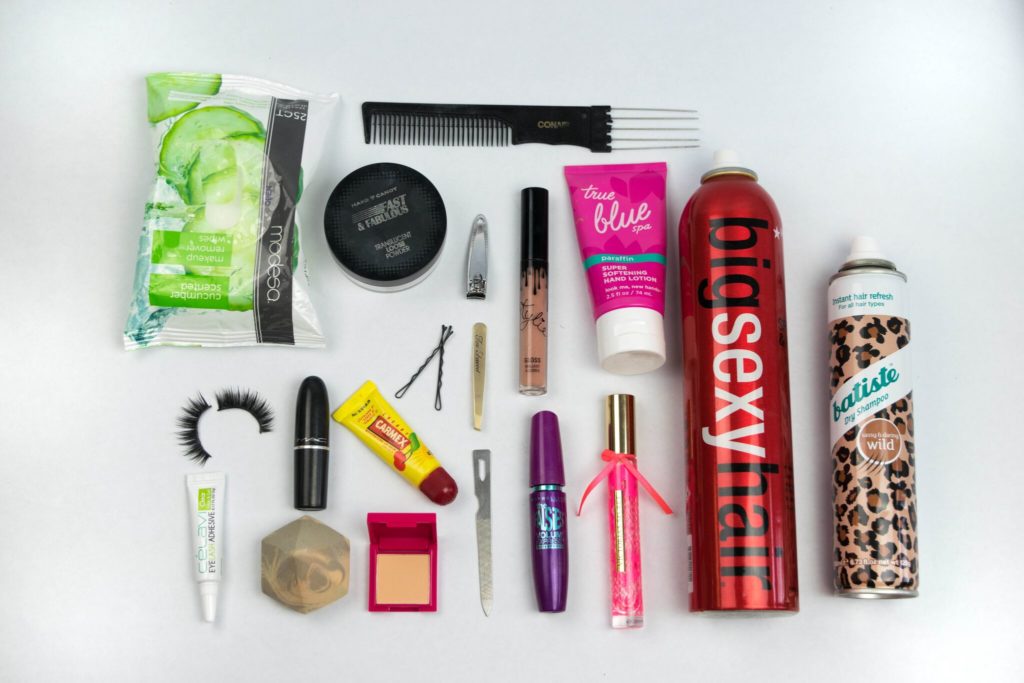 7. Tissues
In our everyday lives, we all know how helpful a travel pack of tissues can be. Make sure you stock up on your supply so it can be at your immediate disposal.
8. Pain Medications/Band-Aids or wedding survival kit
Headaches and other body pains sometimes strike when you least expect them to. They won't hold off just because it's your wedding day. It's a good idea to carry around some pain relievers in case someone in the bridal party is feeling a little low.Band-Aids are good to have, too, in case shoes are causing blisters or if someone encounters a small cut or scrape.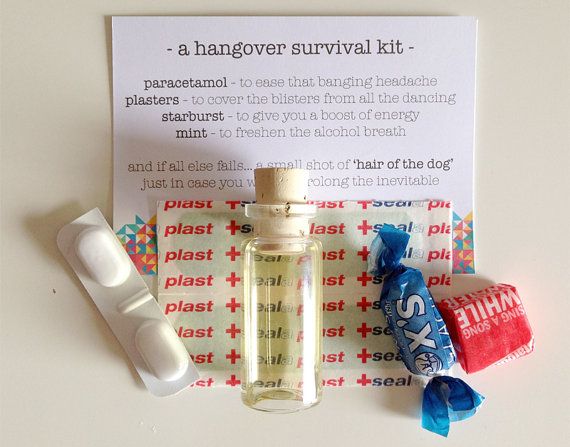 9. Body Spray/Perfume/Deodorant
Assuming you want to smell as great as you look, throw some deodorant and your favorite perfume into your kit. Your groom will love to smell your signature scent on you all night—from your first kiss to your first dance and every first in between.
10. Floss/Mints
Keep your pearly whites fresh with floss, and the rest of your mouth clean with mints. When you're stuck in a bind and can't brush your teeth, these two items will keep you picture-perfect and kissable throughout the day and night. Bride Buttoning Up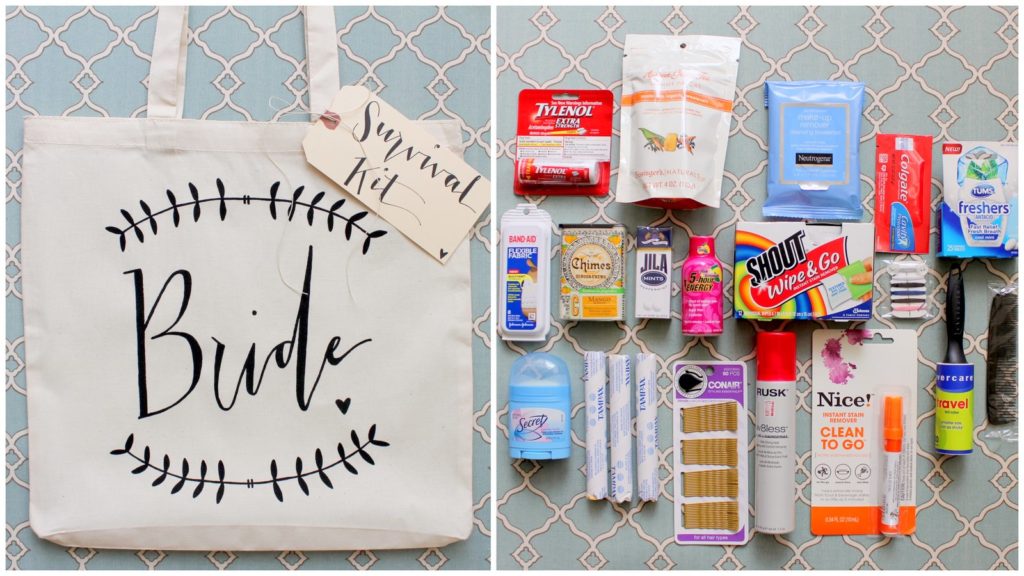 11. Cash and Cellphone
In today's day and age, most of us won't be caught dead without our cellphones—even at our weddings. Someone should have the bride's phone charged and ready to pull out in case of emergencies or even just to snap a photo or two. Although the wedding photographer should have the photo situation under control, it's always fun to capture a few candids. Just in case, someone should also have some cash on them.
12. Sanitary napkins
Because you're a woman—and because you just never know—having female sanitary supplies can mean life or death. It may sound extreme but its must. You just might be the most popular female at the party if you've got a good supply.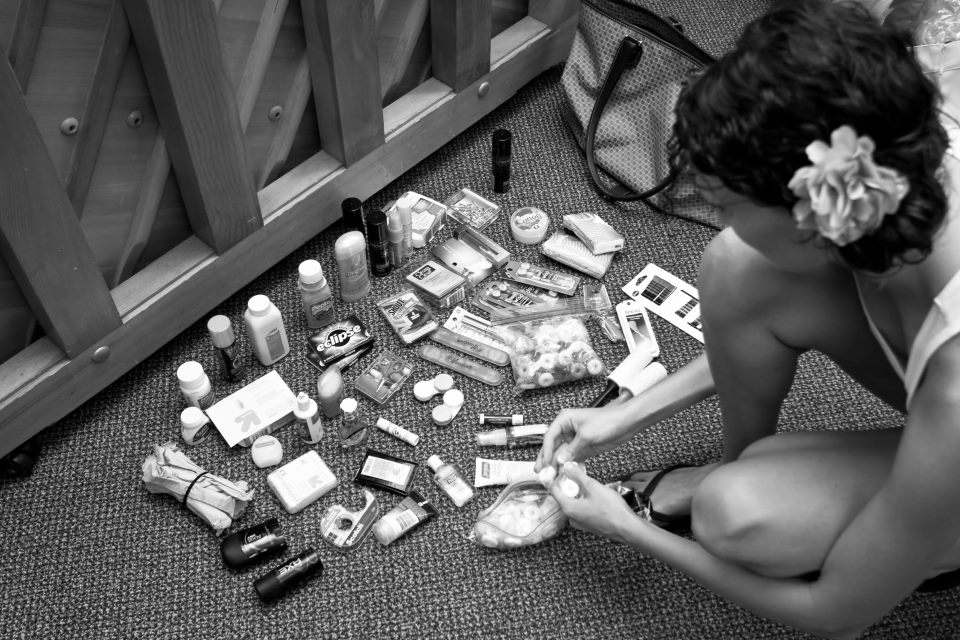 So Get your survival kit ready! If you're going to be a ride in the near future or you suggest or help out your friend in getting her kit ready!!