Flowers for Indian wedding
A wedding is one of the most celebrated occasions in India. And it should be also. It's the time when all our culture comes alive. A wedding should not be boring and dull as it will mark a bad effect in the life of new bride and groom. The wedding marks a new starting in everybody life's which should start with colorful and vibrant colors. And we can add colors to their life by making your wedding look vibrant and colorful.
Gone are the days when a wedding was just gatherings of friends and family. People find an "X-factor" at their wedding. People want colorful themes for decoration for their wedding to make everything look beautiful and dazzling. The best thing to add for decorations is the flowers. With the summer coming in, summer flowers for decoration demand have increased. They can be used anywhere and everywhere from mandap to the stage or to decorate "Shadi Ka Ghar". If you want to have details look of what flowers can be used in summer wedding have a look below!!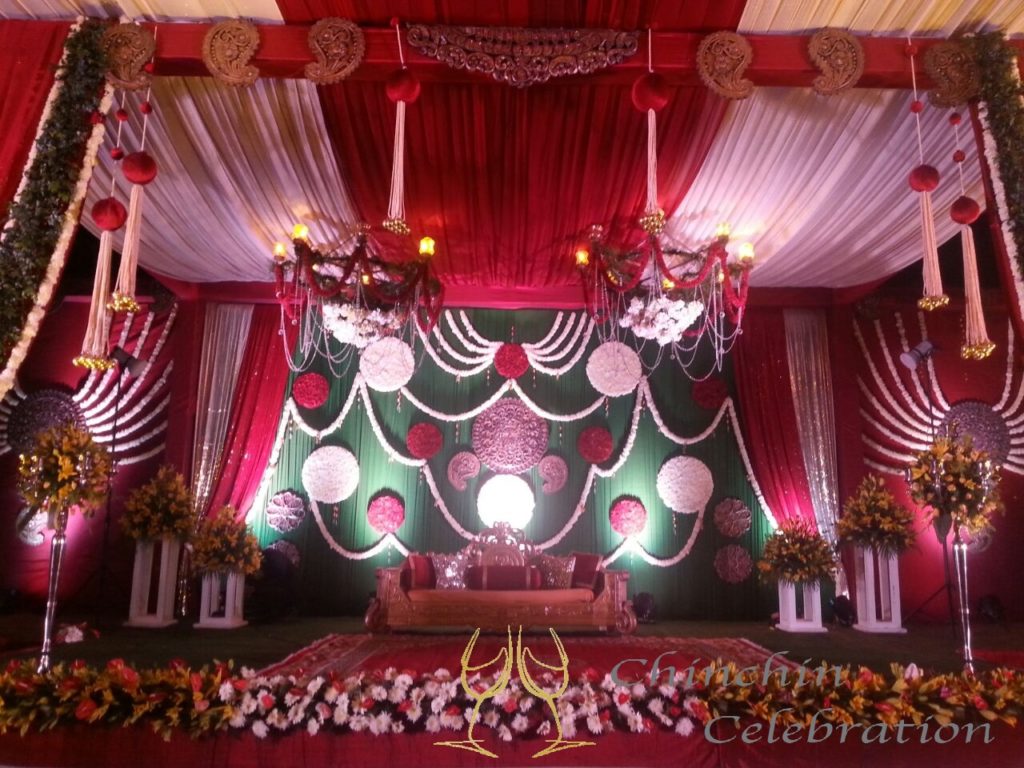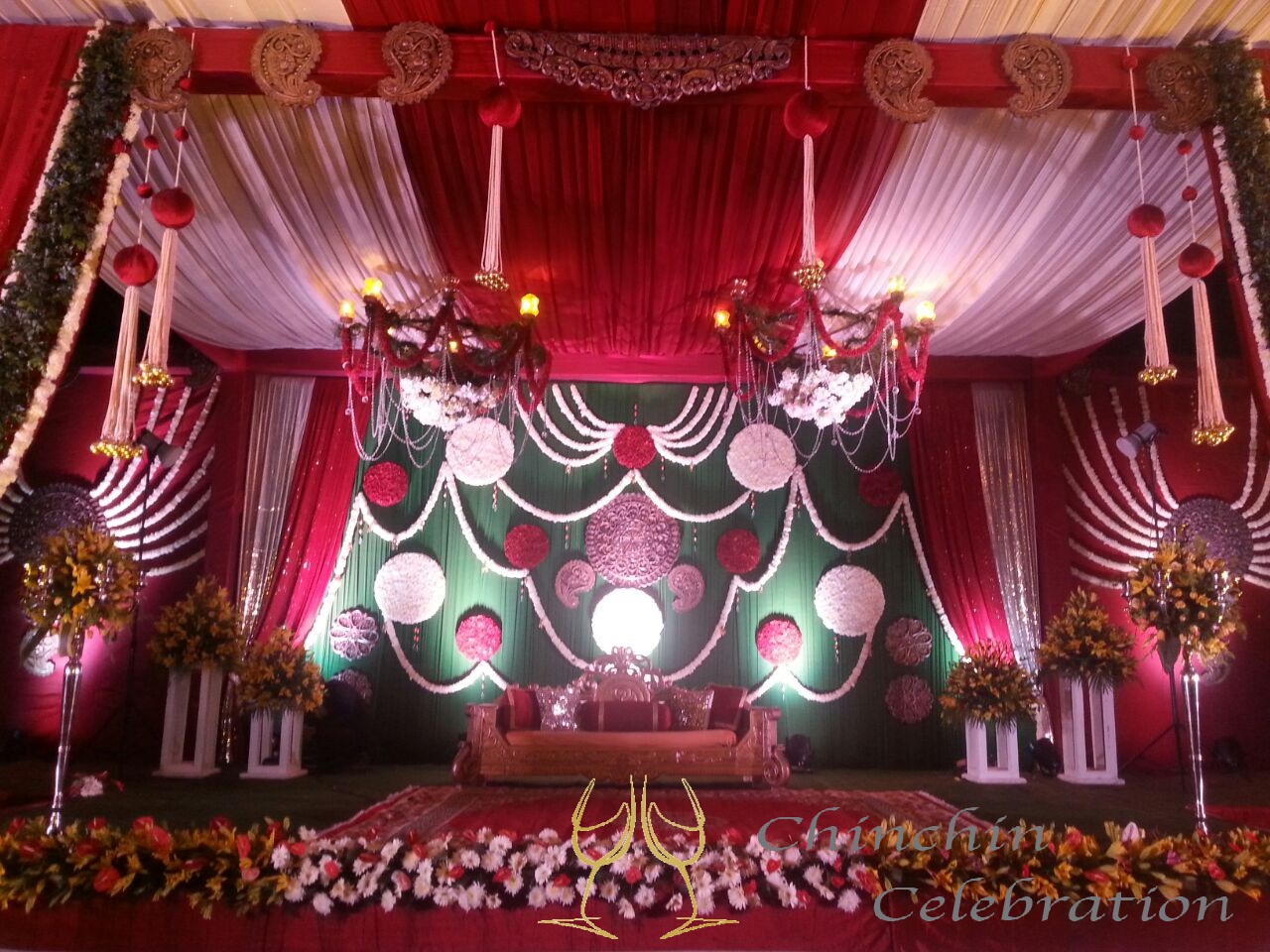 Here is the list of flowers that are easily available in summers and can be used for decoration purpose.
Say I do With Chrysanthemums
Chrysanthemums symbolize long life, joy, and optimism. What could be better at a wedding?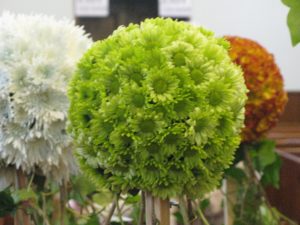 Freesia
They symbolize love, innocence, and thoughtfulness. Freesias are an ideal wedding flower as they are less expensive and can last longer. They come in bright colors and have a light fragrance.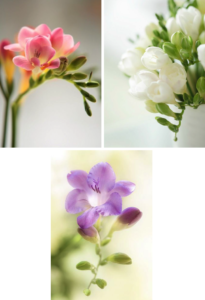 Hydrangeas are available in white, green, purple or blue. They are of large sizes making them ideal for floral decoration like stages or walls.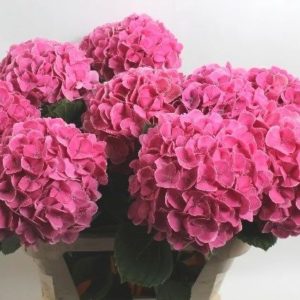 Jasmine has a sweet fragrance. White jasmine flowers are the sign of future prosperity and fortune. Brides can weave these flowers into garlands to wear in their hair during their ore wedding rituals like Haldi ceremony or these can be used in decorations as well.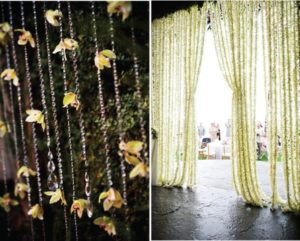 These flowers are a common feature of an Indian wedding. These flowers are available in different colors like orange, light yellow, bright yellow. These can give variant shades effect in wedding decoration.
Though they don't have a very good smell they can be used for adding a color variance. You can use small marigolds or can opt for large French marigolds. You can use them of one single color like yellow, orange or you try a combination of their colors. Marigolds have a peppery, pungent scent that some people find offensive. If the smell of marigolds are not your concern then use them in floral arrangements for your wedding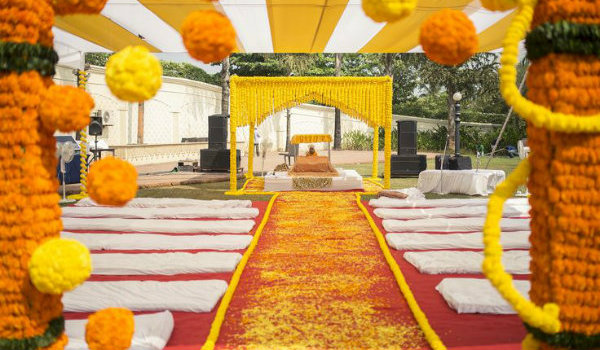 Purple and white is a common color theme for an Indian wedding. Use exotic orchids in arrangements or weave them into chains. Pink, white or purple orchids are often used.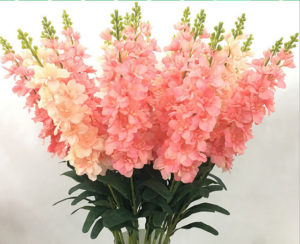 It is a flower of love, passion, reverence, and gratitude. Roses are not a traditional Indian flower, but they are used in Indian weddings. You can use for decorating the stage or entire wedding venue. It will add a romantic essence to your wedding. Or it can be used to give to the grooms family at the time of their arrival to welcome them. They also have colors and main used colors are red, yellow and white as they all symbolize love, peace, and gratitude. You can combine rose with marigolds or jasmine for a beautiful display. These are also very commonly used in Indian weddings.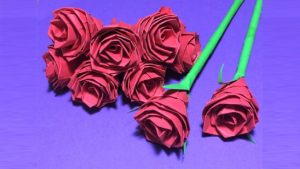 Large, cheery and vibrant, sunflowers are an ideal flower for an Indian wedding. They can withstand heat easily that why they can be easily used in the outdoor wedding. Their strong stalks hold up well in arrangements. Typical garden varieties drop a lot of pollen so ask for sunflowers bred specifically for flower arrangements. These varieties are pollen-free.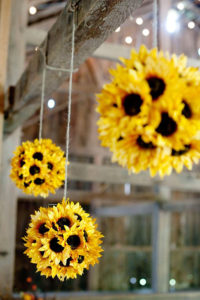 Areas where floral decoration can be done.
1. Entrance gate of your house or to decorate the stairs of your house
Gates entrance can't look more graceful than this. Decorating your gates can be done for various events like wedding, sangeet ceremony, Jagrata or on any other occasion. The above-mentioned flowers list will come helpful in choosing the follower type and color combination.
Either you can decorate your own gate of the house with flowers or you can even get one flower door entrance for your house which will look more graceful and unique. As per Indian traditions and customs, the entrance door should be decorated with torans made up of Ashoka leaves including marigold flowers and other flowers as per different localities and tradition.
Over there also one can use flowers decoration for the house. Even your stairs could look like those in Bollywood movies or tv serials if you want by using floral decoration. Foral decoration looks very elegant and brings a unique charm to the entire occasion.
2. In wedding decoration for mandap or backstage
The primary function of any wedding revolves around mandap. It's the place where every ritual during the wedding takes place. To highlight its beauty you can have Flowers decoration. There are different styles for decoration depending on your budget and need. Flowers add vibrancy and richness to the mandap.
Also, wedding decoration can be done at the back of the wedding stage where "Dulha and Dulhan" will sit together. Either you can opt for a simple design or you can opt for more options by asking from your decorators. The latest of them is flower wall that is a wall fully covered with different types of flowers. Flowers can be your choice. But let me give you an advice, do consider your decorators' advice because they know much better.

 3. Wedding hall entrance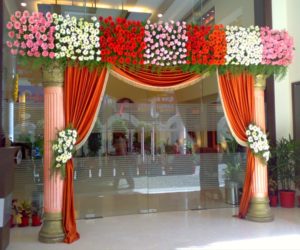 The wedding day is the most precious day in everyone life and to make it memorable you try to make everything unique and different.
To make your wedding entrance gate look unique and elegant you can consider lower decoration for your wedding venue gate entrance. May it is a closed wedding hall or an open lawn wedding flower decoration for entrance can be done everywhere very easily.
It only increases the beauty of the venue and surely will give a create a huge impact on your guests. Also, your wedding photographs beauty will also increase and will become more colorful and your cost for a decent background will also vanish.
4. Wedding car decoration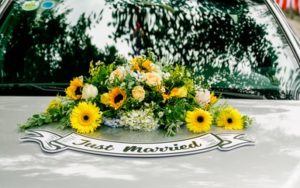 Bidai is one of the difficult parts for both bride and brides parent.
Using floral decoration for the car in brides at grooms house after Bidaii is very common in every wedding. If you also want to get car decoration done than contact us we will surely help you with that.