Are you planning a wedding in the summer season? Are you thinking of open lawns or gardens for the wedding in summer? Then I would say a big "NO" to that idea of open hall wedding in summer. And why so? Have a look at these problems that everyone faces at a summer wedding. Maybe you could also face them. Have a look and then decide!
Sweat and Heat
Gurgaon and Delhi are the areas which are very humid during summers. If you are planning for the outdoor wedding then it will be very problematic for your guests to attend your wedding. You wouldn't like to see your guests feeling uncomfortable at the wedding ceremony. For the bride and groom, it is a big problem. A bride has to wear a lot of make which will melt away easily in such harsh weather and temperature. Also, the bride and groom have to wear the heavy dress which becomes difficult to handle in humid weather. For the guest, it becomes problematic to wear heavy dresses like the bride's sister or mother. Just imagine all the make gets washed away before any picture gets clicked!.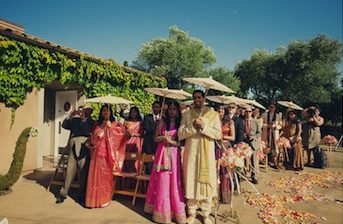 Electricity issues
If you are planning for the outdoor wedding you need electricity backup in case of electricity ditch you in the middle of the wedding. That will add to more cost in your budget. It also very embarrassing that your guest was enjoying and their enjoyment gets disrupted in between. It also creates a very bad impact. And during summers it will create more problem as the temperature is already high in summers in Gurgaon.
Being bitten by mosquitos
In summers mosquitoes are normal. In summer wedding it will become difficult for everyone including the bride and groom to enjoy the wedding events. Also, it can lead to more problems like bride and groom falling ill just the very next day of the wedding.
Additional cost for cooling
In the outdoor wedding, one has to look after the cooling systems such that your guests are at ease. There are different options for cooling like standing AC's, cooler etc. This all will add to your budget. Also, the cooling systems will not be that efficient because in large lawns everything would be spread. So closed halls are much efficient in the cooling system as they have a centralized AC system which will be very comfortable.
Extra care for food arrangements
 In the summers, foods easily spoiled as compared to winter. So it has to take care that catering services are very efficient and the guests are not served with bad quality food.
After reading all these reasons I think that you are convinced enough. And not to have your weddings arranged in open lawns or open area in summers.