Wedding Venue in Gurgaon and Delhi NCR.
Chinchin Celebration is specialized in wedding venues in Gurgaon and Delhi also understand that choosing the perfect wedding venue is fundamental to the success of your event. We are excited to have the opportunity to serve you by providing various options of venues like lawns, farms,halls etc to make your dream come true. Our Wedding venue is tastefully chosen so that it compliments your wedding theme. Be it a royal wedding in a palace, a romantic beach wedding, a traditional wedding at a religious location, an elegant and beautiful heritage location wedding or an exotic destination wedding. The lifestyles and personalities of the couple is reflected in our weddings.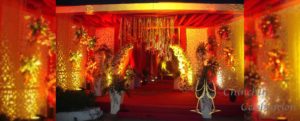 In weddings, there are no one to conduct for assuring the standards are been meet. Also in most out of control allegations, there are no genuine feedback. Each knows about that old youngster in the other who may emit once more. We are not absurd to ourselves. We are ever-enduring that is the advantage of the wedding band.
Few of the wedding venues with client's requisites:
Lush green lawns with water bodies.

Old heritage Haveli / Palace / Forts in Rajasthan with lush lawns.

Beach wedding in Goa / Beaches of south east Asia.

Contemporary villa / farmhouse/ resort in foothills of Nainital, Corbett, Manali, Khandala or Lonavala.

Vintage Courtyard

Breathtaking temples down South India.
Wedding venue options in India
While deciding the wedding venue budget plays an important part. The wedding venue options in India comprise of places like:
Clubs,

Parks,

banquets,

Hotels,

Convection Halls,

Resorts,

Farm houses,

Cruises,

Palaces,

Temples,

Guest Houses etc.
Weddings are extraordinary so why get hitch in a common place. It isn't required to have a destination wedding. There are a lot of astonishing wedding scenes around Delhi and Gurgaon. You should have a look at our website if your into making arrangements for a wedding at any point in the near future.Or just give call, we will call you back.
You are finish with your engagement and most likely searching for some flawless wedding venue for yourself? On the off chance that "yes" at that point is when you observe a portion of the best wedding venues in Delhi NCR and around where Wedding Twinkles have shot. We gives you the best wedding venue.
Open Hours
Monday – Sunday
10:00 am – 7:00 pm
Weekend Open
Phone & E-mail
Phone: 7042007068
Chinchincelebration@gmail.com